How it works: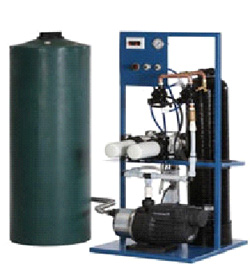 Tap water passes through a series of filters and membranes to reduce up to 99% of substances such as arsenic, lead and radium. This four stage design uses a KDF carbon pre-filter, two RO membrane elements and a carbon post- filter to produce the highest quality of water.
Features:
Water saving automatic shut off.
Made from high strength Xyron Plastic.
Durable Polypropylene holding tank.
Double O-Ring housings.
Benefits:
Up to 99% contaminate removal.
TDS rejection to ensure complete purification.
Improves water taste.
Reduces scale in pots and kettles so less soap is needed.
Brighter teeth and healthier bodies.
Increase life of pipes, water heater, dishwasher, clothes washer and other appliances.
Advantages:
Top quality NFS certified filters.
High quality water cheaper than bottled water.
Fresh water at every tap.
Environmentally friendly.
Compact unit
Contaminate Removal Capabilities of whole house R.O. System
Iron 99%
Aluminum 99%
Bacteria 99%
Barium 92%
Bicarbonate 96%
Bromide 96%
Cadmium 98%
Calcium 98%
Chloride 95%
Copper 99%
Cyanide 95%
Detergents 99%
Lead 90%
Magnesium 98%
Manganese 99%
Mercury 97%
Nitrate 65%
Phosphate 99%
Polyphosphate 99%
Potassium 96%
Radium 80%
Silica 90%
Silicate 96%
Sodium 96%
Sulfate 99%
Zinc 99%

Garrelts & Sons, Inc looks forward to helping you have great-tasting water in your home. Give us a call today at (815) 385-3821.
We also offer the following water treatment products and services: